What is an au pair?
An au pair is somebody who comes to the UK from an eligible European Union country to live with your family. In return for their food, room and pocket money they provide you with help for five hours a day, five days a week. In addition they will babysit two to three nights a week. An au pair plus will work for seven hours a day, five days a week and provide babysitting. Au pairs can be female or male – in fact a male au pair can be great if you have a family of boys. Most au pairs want to stay for a year but some stay longer. We also provide au pairs for during the summer holidays for three months.
What can an au pair do?
An au pair can look after your children for short periods of time at home, take your children to and from school or nursery, help with housework and babysit during the evening. We recommend that you don't leave an au pair to look after a baby on their own.
How much pocket money should I give my au pair?
Pocket money for an au pair is £75-80 per week
Pocket money for an au pair plus is £90-100 per week
Will my au pair speak English?
The degree to which au pairs speak English can vary considerably and you must bear this in mind. Most au pairs come to the UK to learn or improve their English and should be given time to attend college either in the morning or afternoon. An au pair plus may need to go to college in the evening. Going to college is a great way for your au pair to make friends too.
What do I need to provide for my au pair?
You will need to give your au pair their own room with a wardrobe and chest of drawers to put their clothes in. They should have a table in their room so they can do their homework and you may want to provide a television. Try to make your au pair feel comfortable and part of the family. How much time they spend time with you when they are not working will depend on their personality and your family.
Why come to Hilary's Agency for your au pair?
All our au pairs are interviewed and references checked by our agents in their countries of origin so you can be assured that you will be welcoming someone with the best intentions into your family. Also, they all have medical and police checks. All our au pairs will have some experience of looking after children and want to do so during their stay in this country.
Hilary's Agency supplies au pairs from many EU countries including:
Italy
Spain
France
Czech Republic
Hungary
Latvia
Slovakia
Lithuania
Hilary's Agency placement fees
£395 – au pair
£425 – au pair plus and mother's help
£250 – summer au pair (three months)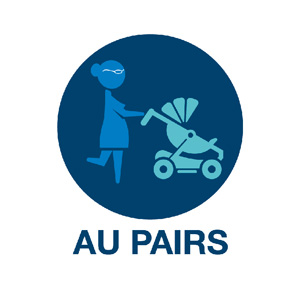 Keen and friendly au pairs
Call 0208 559 1110